GABLE TOP CARTONS FOR WATER: OUR HIGH ADDED-VALUE CONSULTANCY SERVICES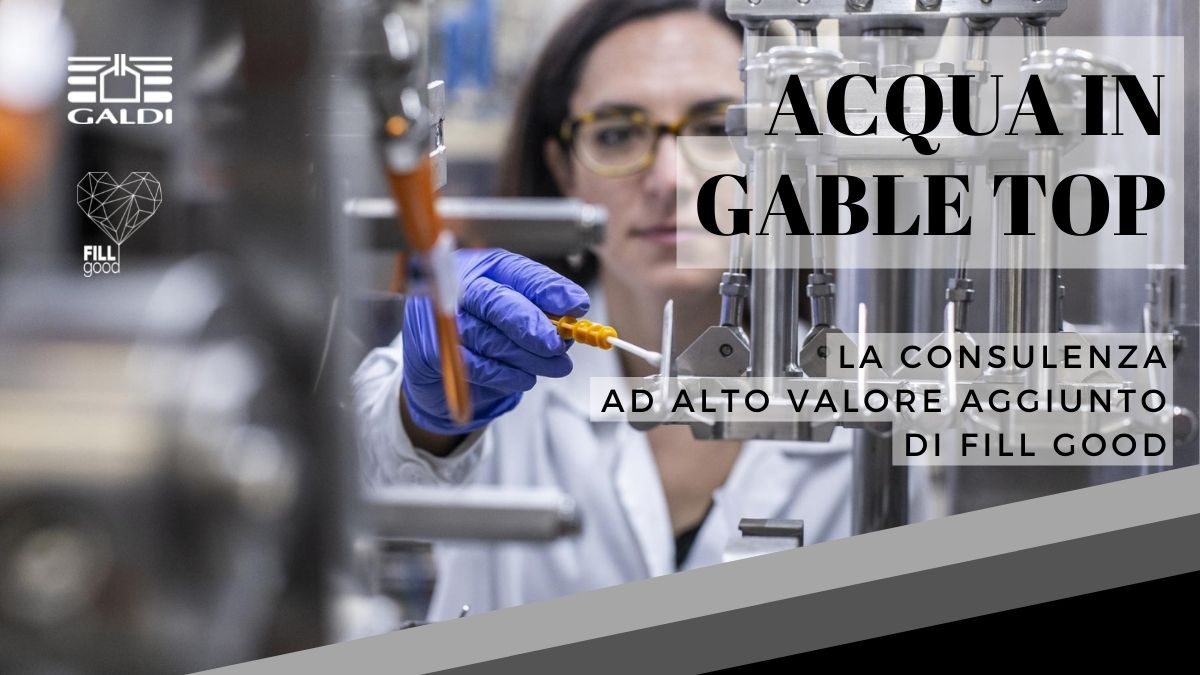 After Fonte Margherita (first Gable Top water carton in Italy) and Theoni (first in Greece), a growing number of bottled water companies are showing interest in cardboard packaging solutions.
This is also thanks to the sustainability of Gable Top cartons, which are 100% renewable and recyclable and therefore viewed positively by consumers, who associate them with sustainability and premium quality products.
Galdi Group provides mineral water companies with comprehensive and ongoing support, from the initial packaging development stage to the development of the packaging solution that best enhances their product.
WITH FILL good YOU GET FULL SUPPORT
The combined efforts of Galdi and FILL good have already proved invaluable in several projects, particularly for bottled water companies.
On the one hand, there's Galdi's thirty-year experience in packaging and the ongoing technological research, especially for delicate products such as water.
On the other, you can rely on the high added-value advice provided by FILL good in the areas of packaging development, microbiology and food safety.
The common goal is to ensure that customers get the perfect combination of product, packaging and packing technologies.
FILL good plays a key role in this mission, as the customer's in-house laboratory technicians and quality managers can work with experts that speak the same language. And FILL good is also on hand to help those unfamiliar with the world of cardboard packaging make a more informed choice.
By full support we mean sharing know-how about packaging and packing solutions, providing strategic advice based on your needs and objectives, as well as testing solutions to assess the feasibility of your projects.
Here are the services offered by FILL good:
PACKAGING DEVELOPMENT
Product/pack compatibility testing, selection of cap closure and of any additional components
Evaluation of the most suitable solution, considering relevant market, distribution channel and product, thanks to Galdi's experience and FILL good's expertise
Provision of a complete solution (filling machine & packaging), ensuring that the machinery works properly, plus ongoing support at start-up and during production
MICROBIOLOGICAL SUPPORT
Sensory testing to evaluate customer satisfaction with the product inside the carton and to detect any off-flavours
Microbiological testing of the product inside the selected carton
Thorough cleaning of the filler before shipment: CIP and SIP, including bacterial load testing, manual cleaning of the whole machine and ATP test to assess hygiene conditions.
Support in identifying the causes of any contamination and in implementing corrective actions through a structured troubleshooting process
Help with validation protocols and shelf-life tests
Sharing of hygiene best practices and checklists for operators
Food safety training, specific for the packaging industry
These services complement those provided by Galdi Group, from advanced After Sales support with the new digital services, to the advantage of having a single point of contact for the entire packaging line.
And more services are in the pipeline, as we strive to build and maintain long lasting relationships with our partners, providing our customers with know-how, innovation and resources.