MOLINO ROSSETTO: GABLE TOP FOR NEW FLOURS' LINE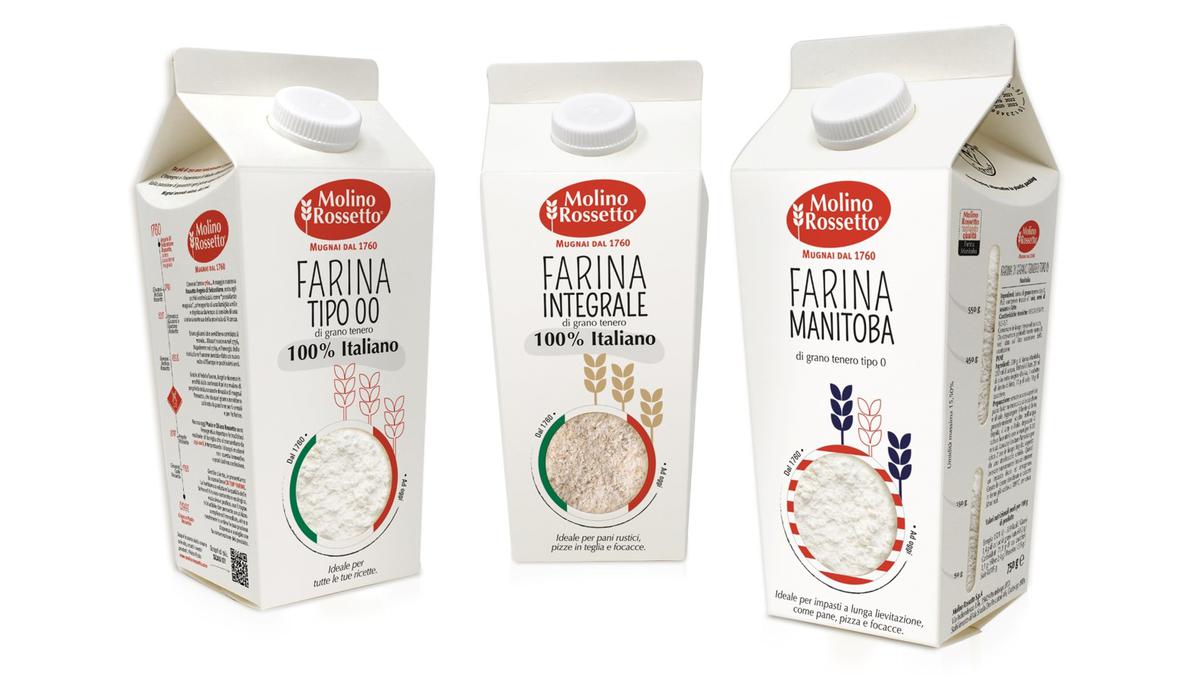 In a preview at Bologna's Marca Fair, Molino Rossetto unveiled the packaging for the new line of Cr Top Flours: a Gable Top carton, an innovative, sustainable and highly value-added choice.
CHOOSING GABLE TOP
Traditionally used for liquids such as milk and fruit juice, Gable Top cartons are increasingly becoming the container of choice for other products too.
For Molino Rossetto flours, Gable Top packaging is a practical innovation, which enables to use flour in a functional and clean way.
Easy opening and closing - thanks to the cap closure - enable a proper storage and use of the product, as well as simple portion control.
The packaging also comes with a front see-through window that shows the content and a quantity indicator on the back with different levels in grams, in order to see at a glance how much flour is left.
ONE PACKAGING, MANY ADVANTAGES
Using flours packaged in Gable Top cartons is a real revolution in the way you pour, measure and storage the product.
Polylaminate carton packaging is very sturdy, an important feature for both consumer and retailers.
Finally, the cap closure brings benefits at the manufacturing level, improving logistics and avoiding flour leaks.
Last but not least, the packaging is made of carton, is completely recyclable, made from 75% FSC-certified paper, i.e. coming from responsibly managed forests: a choice in line with the product and the company.

THE SUPPORT PROVIDED BY FILL GOOD
FILL good, a start-up owned by Galdi, which has been producing filling machines for liquid gable top cartons for more than 30 years, is proud of the cooperation with Molino Rossetto to create an innovative packaging for the new Cr Top flours' line.
The mission of the start-up is indeed to innovate containers and wrapping methods in order to extend shelf life and promote the development of smart wrapping solutions to increase the trust in product freshness among consumers.